Class 1J - Mrs Johnson
Welcome to Class 1J!
We are READY TO LEARN
We WORK HARD
We are proud of our PROGRESS
Welcome to our class page. At the bottom of the page you will find lots of general information such as PE days, reading book days, key words and any other information related to our class.
At the top of the page you will find lots of updates on what we have been learning.
***This is what we are learning about this term(Summer):
English:
In our English lessons over the next couple of weeks we will be working on our next 'Talk 4 Writing' unit. So far this year we have only used our 'Talk 4 Writing' for stories. We are now going to try it with non-fiction writing. We will be learning a report on foxes off by heart with actions this week (w.b. 15th May), and then innovating our report to write a new report on hedgehogs the following week. WATCH THIS SPACE FOR MORE ON THIS!
We are still going to be thinking about how to use capital letters, full stops and fingers spaces in our writing as this is very important. We are also trying hard to remember the following whenever we write:
Use cursive handwriting, with tall letters (ascenders),tail letters (descenders) and short letters.

Use the suffixes 'ed' and 'ing' to help us to spell past tense and present tense verbs

Use 's' or 'es' to write plurals

Spell words with the prefix 'un'
Use question marks and exclamation marks (if appropriate)
Phonics/Spelling:
We have now learned all of the Phase 2, 3 and 5 sounds. We have been looking carefully to see if we can spot these sounds in any of our words and using them to help us read unknown words. We will continue to practise reading a range of real and nonsense words with these sounds in.
We have also been using the sounds we know to help us to spell words in our writing. During this last term we will be trying to choose the right sound carefully and will use them to try and spell longer words (polysyllabic).
Maths:
In Maths we will be working on our mental maths skills. We will be trying to work out calculations mentally by drawing on knowledge that we already have. For example, using number bonds to 10, number doubles and putting the biggest number first to work out addition.
We will continue our work on the place value of numbers as this is so important for all of our maths. We will also be continuing to practise counting in 2s, 5s and 10s on and back to/from 100.
We are always trying to challenge ourselves and solve problems and puzzles involving aspects of maths that we have been working on.
Science:
In Science this term our unit of work is on plants. We have started this unit off with a quick stroll across the field to the fabulous garden area at the juniors. We looked carefully at the plants that we could see and tried to name some of them. We made sketches and took photographs so we could continue our learning back in the classroom over the next few weeks.
PE:
Games: In our games lessons we will be learning how to hold rackets correctly and we will be working to improve our control. We will explore using rackets with increasing accuracy to aim at targets and use this in small games.
Dance: In our dance lessons we will be thinking about minibeasts. We will be exploring ways of travelling and moving using minibeasts as our inspiration.
Computing:
This term we will be learning how to use a range of tools in a paint package on the laptops and iPads. Some of these will include the brush, shape, line, fill, undo and special effects tools. We will learn how to save our work into our own folders and print our finished pieces. Towards the end of the unit we will put our new skills to the test when we will create illustrations for our very own e-book.
Geography:
After studying our local area in the autumn term, we will now be moving further afield and comparing our local area to another area of the UK. We will be studying the Isle of Coll and looking at how the human and physical features are different to those in Flixton. We will link this to the fictional island of Struay (based around the Isle of Coll) where we will follow the adventures of Katie Morag.
History:
Our unit of work this term is 'Kings and Queens'. We will be looking into the history of the monarchy in England and learning about some of the most famous kings and queens from the past. We will research how everyday life has changed under the reign of the different monarchs.
We are very proud of all that we learn and achieve at school. Take a look at what we've been up to:
Friday 19th May 2017
HISTORY
We started our new unit of work by looking at a range of photographs. We had to look for clues in the photographs that might help us learn more about the people in them. We discussed who they might be, what they might be like, what their jobs might be and whether they were from the past or alive today. It was really interesting listening to everyone's opinions and ideas.
Friday 19th May 2017
MATHS
We love a challenge in Class 1J! We now know our number bonds to 10 really well and have been trying to apply this knowledge in a range of ways. Today we were using them to try and solve a really challenging maths puzzle. It really got us thinking but we persevered until we finally cracked it! We had 9 small triangles that had 3 numbers on each. We had to work out how to fit all the triangles together to make one big triangle. The tricky bit was that all numbers that touched had to be a number bond to 10.
We have been trying to spot number bonds to 10 and number doubles to help us work out calculations faster.
Wednesday 17th May 2017
POBBLE LAUNCH DAY!!!
Today was a very exciting day as we launched Pobble! We were very lucky to be chosen to take part in the Pobble launch day writing workshop. We had great fun with Mrs Tie using a Pobble 365 image to get our brains warmed up. We then used the book 'Monster Zoo' to inspire us to create our own monsters. Don't forget to look at our amazing writing on www.pobble.com. For instructions on how to find our writing on Pobble, see the bottom of the page.
Monday 15th May 2017
ENGLISH
This week we are starting our new Talk 4 Writing text. Up to now in our Talk 4 Writing we have only done narrative but this time we are going to be learning and writing a report. Have a look at our model text that we have learned on foxes:
Friday 12th May 2017
We have been doing lots of activities to practise all of our Phase 5 sounds. We have been practising saying the sounds on their own as well as spotting them in words. Playing a game called 'BURIED TREASURE' is a great way to practise reading real and nonsense words with these sounds in. The website 'Phonics Play' has lots of free games and resources for you to play at home. Click the link below and it will take you there:
http://www.phonicsplay.co.uk/Phase5Menu.htm
**THIS LINK WILL TAKE YOU TO ANOTHER WEBSITE ON THE INTERNET. WE WOULD ALWAYS ADVISE THAT THE CHILDREN ARE SUPERVISED WHEN USING THE INTERNET.
Friday 17th March 2017
ENGLISH
This week we have been looking at poetry. We have explored lots of words and phrases that can be used to describe different types of weather and then we have played about with them to make up our own poems.
Monday 13th March 2017
Design Technology
Over the last few weeks in DT we have been planning and designing a healthy snack to make. We all had different ideas of what we wanted to make. Last week we made a list of the ingredients and equipment that we would need and wrote some instructions for how to make our healthy snack. Today was finally the day that we got to make them! We had lots of fun being chefs and had even more fun eating our snacks!!
Friday 10th March 2017
SCIENCE
This week in our science lesson we carried out an investigation to find out which type of paper was the most absorbent. We squirted 12ml of water onto a plate and then used the paper to mop up the water. We then used a syringe to suck the water that was left up and see how much had been absorbed. We had great fun working in our teams!
WORLD BOOK DAY!
We have all had a fabulous time showing off our costumes and sharing our favourite books. We had lots of amazing costumes in class 1J, take a peek below! We also enjoyed having Year 6 over to read us some of their favourite children's books.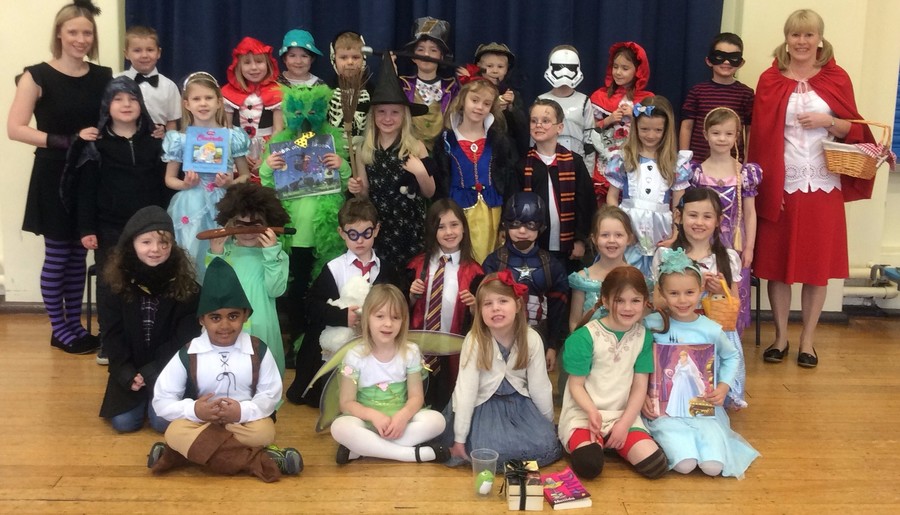 In English we have come to the end of our Talk 4 Writing unit on Stanley's Stick. We finished off the unit by inventing our own stories based on the structure of Stanley's Stick. We picked an everyday object and used alliteration to come up with our characters name. We then wrote our own stories about the adventures that our characters could have with their objects. Take a look at some of our amazing stories below!
In our History lessons we have moved on to looking at lots of other toys that children played with in the past. We had a great afternoon exploring all of these games and finding out how these toys compare with the toys that we play with today. We also looked at the materials that toys were made of a long time ago compared to now.
We are on our last week of gymnastics with our gymnastic coach Miss Vernon. We have worked hard on perfecting our sequences ready to show the other class. We have watched each other and given feedback on areas that we could improve. Clear body shapes, straight strong lines, steady balances and links between movements that flow are all things that have earned us the most praise!
Friday 27th January 2017
In SCIENCE this week we were investigating the properties of different materials. Stanley needed our help! He wanted to make a superhero cape for his stick and wanted to find out which material would be most suitable.
Thursday 26th January 2017
In ENGLISH we have started our new Talk for Writing text 'Stanley's Stick'. We found lots of unusual sticks and thought of adjectives to describe them. We then used our imaginations to think of adventures that we could have with our sticks, just like Stanley!
Click on each thumbnail to make them larger.
We have worked hard all week to learn our new story with actions. Take a look at us in action in the video to follow...............
Thursday 26th January 2017
This morning in MATHS we went on a treasure hunt. Mrs Johnson had hidden envelopes full of money (unfortunately not real!) around school. When we found an envelope full of treasure, we had to count how much money was in it by counting in 2s, 5s and 10s. It was lots of fun!
Thursday 5th January
This week we started a 6 week unit of work with a gymnastics coach. We learnt how to create a pike shape, straddle shape, star shape and tuck shape. We then worked with a partner to put them together into a sequence. Just look at out strong lines!
Thursday 1st December
On Tuesday 29th November we went on a walk around the local area as part of our Geography work. We learnt how to follow a route on a street map and we were looking out for human and physical features in the environment.
As part of our English work, we have been learning to retell Little Red Riding Hood - with a twist!
******Class 1J General Information******
Don't Forget!
Monday: Reading books changed
Tuesday: Homework folders in
Wednesday: Class library books changed
Thursday: Homework folders given out
Friday: Reading books changed/Spelling test and new spellings
Phases (phonics) information