We love working hard, being productive and making progress.
Class 2O Mrs O'Grady and Mrs Jones
Reminders - Reading books are changed on Mondays and Fridays.
Library Books are changed on Wednesdays.
Homework is handed in on Tuesday and the spelling test is on a Friday.
Please remember to return merit badges on a Thursday.
Today we used clay as part of our art work. We used different tools to practise adding texture to the clay. We also found out how to join pieces of clay together. We will be making different minibeasts using our new skills.
Today we used our branches, leaves, twigs and other fantastic resources to build our mini beast habitats. We worked really well as teams and showed tremendous perseverance, especially when the branches wouldn't stay put! Mrs O'Grady was very proud of our team work and kindness in sharing resources and working hard to help each other. Hopefully we might find that some of the houses have been used!
Today we had a special delivery....Mrs O'Grady found a basket full of eggs, we thought they might belong to a dragon. We then learnt our new Talk for Writing instructions, How to trap a dragon!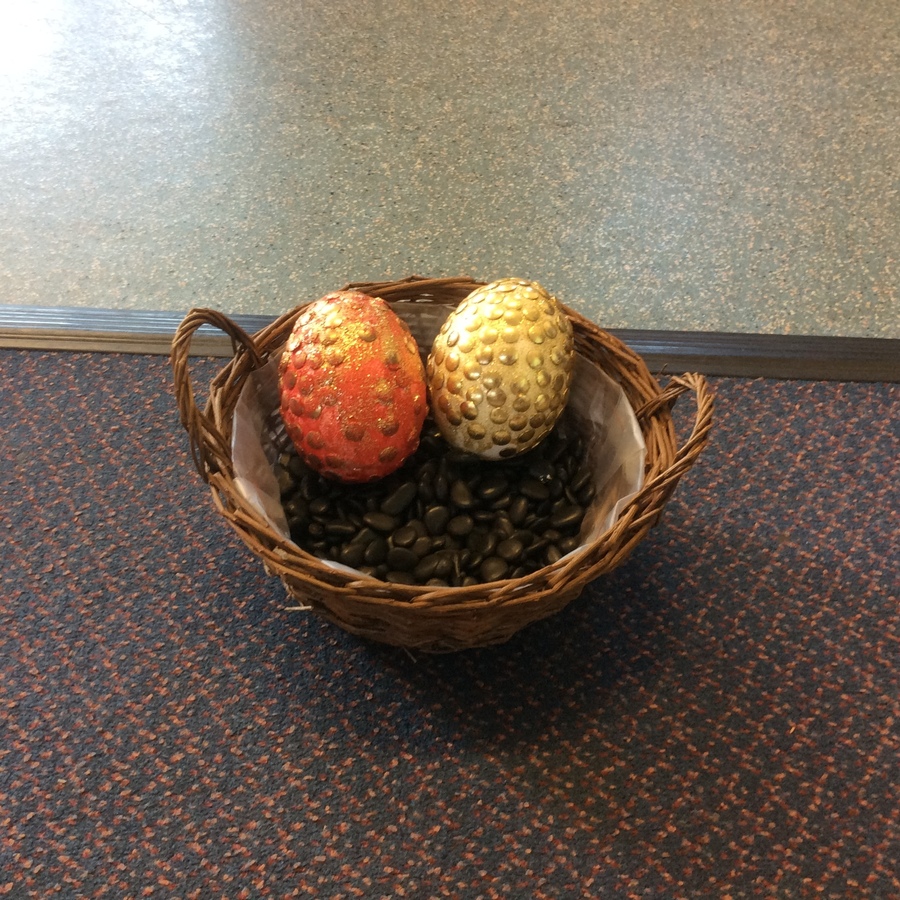 Here are the finished puppets, don't they look fantastic!
Today was the day a lot of us had been waiting for all year, we finally got to sew our puppets!
Mrs O'Grady showed us two different stitches and then we all had a go! What a lot of perseverance we had!
Mrs O'Grady helped us when we got tangled and knotted but we all did a brilliant job. We have started to decorate them and will finish them this week. There was some amazing team work happening too.
Last week we visited the junior school for Mad Fitness!
We had a great time learning about how our bodies change as we exercise. We were all very quiet on the walk back!
We had a fantastic time at Formby Point. the children were very excited to be exploring the different habitats. We looked at a Pine Wood, a Deciduous Wood, the sand dunes and the beach. We were amazed at some of the things we found, centipedes, jelly fish, razor shells and lots of different types of trees and plants. We looked at the different types of plants and animals that lived in each habitat and why that habitat was good for those animals and plants. We used our senses to find out what we could smell, hear and see in each habitat. We even saw some red squirrels. The children were beautifully behaved and were so interested in everything they were learning.
Thank you very much to our parent helpers who gave up their time to come along.
Friday saw the end to a super busy half term. Thank you so much to the children who have worked extremely hard this half term. I am very proud of them.
The class has been earning stars from the lunchtime staff for super manners, lining up quietly, walking around school and lots of other positive behaviour. They managed to earn lots of minutes for their choice time and with Mrs Jones they decided to make their own picnic. They had to work as a team, organise which jobs each person had to do, be very independent and work out how to carry it all outside!
Thankfully the sun was shining and the children said "it was the best picnic ever!"
Today, for part of our science learning, Mrs O'Grady asked us to sort minibeasts by observable features, at first we thought she might have tried to catch some!
We used these fantastic bugs in acrylic and had to work in groups to identify their observable features. We then had a go at sorting and classifying them. After we did this we used our English work on riddles to play Guess Who? Can you make up some clues to guess which bug it is?
We let the ladybirds go free today. They seemed a bit unsure about flying away. We were very surprised by how many had hatched. We have really enjoyed learning about their life cycle.
Today as part of our Science work we went outside and completed a minibeast hunt. We had to draw our own tables to record what we had found and where we found it. We had a minibeast key to help us to identify the bugs.
Mrs O'Grady couldn't believe her eyes when we found not 1, not 2 but 3 frogs! See if you can spot them in the photos.
We have had our first author published on Pobble. Have a look at the website and see if you can find an animal riddle by someone in our class. Keep looking as we can publish 5 authors a week!
Look at our fantastic artwork inspired by William Morris. The children have worked very hard designing their own motif, tracing it onto paper and then using the motif in a pattern to create their own piece of work. They then learnt how to use special watercolour pencils to add the colour. Don't they look fantastic?
We have been using our working scientifically skills in today's science lesson. We had to observe closely using simple equipment to group and classify the seeds by observable features. We enjoyed using the magnifying pots and hand lenses.
Our ladybird larvae has transformed! We are just waiting to make sure they have all changed (and for it to stop raining!) and then we will let them go!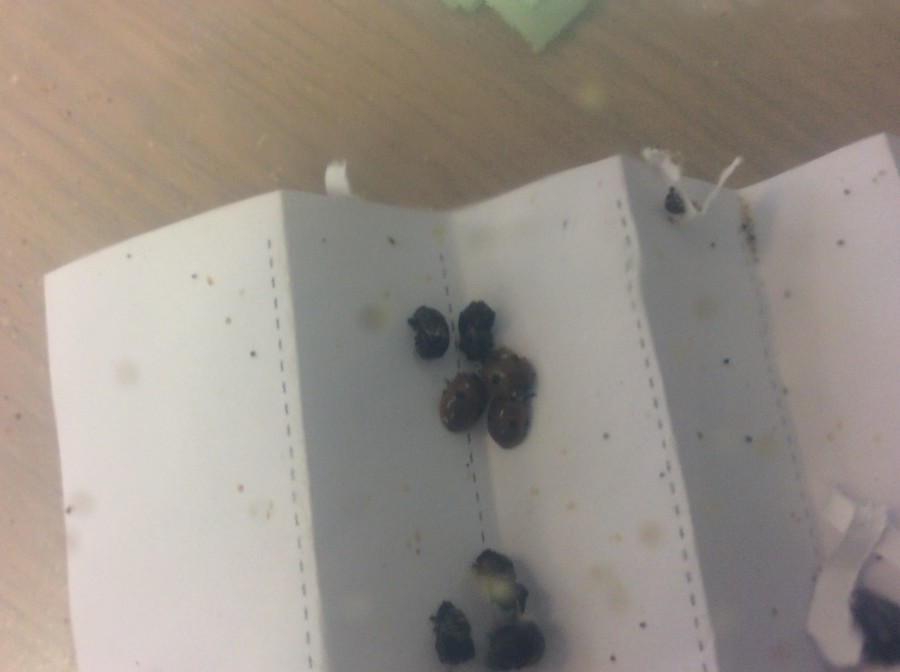 We are really enjoying our Tri Golf lessons with Mrs Jones and are busy perfecting our golf skills.
Our ladybirds are changing before our eyes! They have now eaten most of the food and are beginning to shed. Look how much they've grown!
A special delivery...
Class 20 got a very special delivery this week, all the way from Belgium! The children have been learning about life cycles in their science work and had great fun trying to guess which animal had arrived! Can you guess what it is?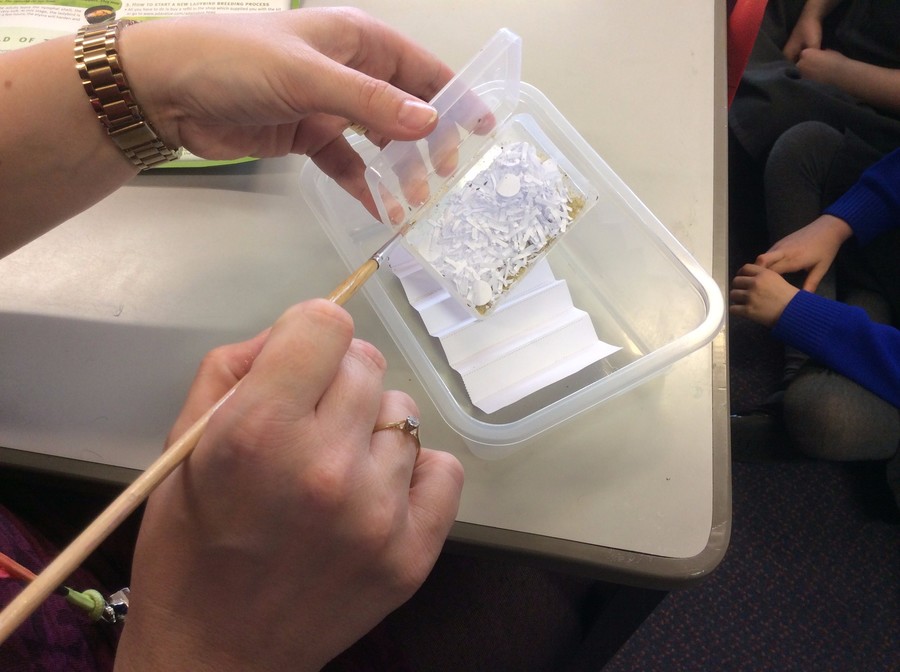 The children discovered it was a ladybird larvae. We have put them in a vivarium and will keep observing them over time to see what changes occur. We can't wait to see what they will look like next...
William Morris
In our art work we have found out all about William Morris. We have looked at different types of art work by him and found out all about his style and techniques. We found out that he was inspired by nature and made repeated and often symmetrical designs. First we had a go at finding the motif that he had used using a viewfinder, we then even had a go a sketching one of the motifs. The art work produced was fantastic! We also looked at how Morris created his designs using repeated motifs, rotated motifs, symmetrical motifs and also half drops, chequers boards and horizontal boards. The children then designed their own motif (sketching fruit) and had to create their own design using one the of the styles. The designs are very detailed, next week we will be adding colour...
Summer term 1
English
In English this half term we will be writing stories, instructions, reports and recounts. We will be focusing on using the correct spellings for tricky words, adding in exciting punctuation for example, exclamation marks, commas and apostrophes for contractions and for possession. We will also look at the features of each genre and what sorts of things we need to include for each. We will continue to work on our cursive handwriting, checking it is the correct size and joined in the right way.
Maths
For maths we will be doing lots of practising solving different types of calculations using the most effective strategy.For addition and subtraction we would use a blank number line in jumps of tens and ones. For multiplication we would draw an array and for division we would group. We might also have to solve fractions of numbers of shapes. We will be asking the children to solve word problems involving these types of calculations.
Science
In our science work this half term we will be learning about life cycles and looking at different habitats. We will find out about the types of animals that live in the habitat and how they are adapted to that particular habitat.
History
Our new history topic is all about explorers.
Art
In art we will be developing our sketching skills in the style of William Morris. We will also be using a different type of media to add colour.
For our English work this week we have looked at how to plan a story using a story mountain. We have to have 5 parts for the story, the opening, the build up, the problem, the resolution and the ending. First of all we looked at the Billy Goat's Gruff story and plotted the story on the story mountain. We then looked at the nursery rhyme Humpty Dumpty and used that to innovate our own story about a character in a dangerous place!
The children have written some amazing story starters and have practised using expanded noun phrases and conjunctions to improve their writing. The spellings this week will help us with our story writing next week where we will meet a little sparrow called Spike who has a problem... Keep an eye on this page for a story update!
As part of our history work the children have really enjoyed finding out about other famous women in history, for example, Dany Cotton, Margaret Thatcher and we have now looked at the story of Rosa Parks. We will be comparing Rosa Park and Emily Davison for our history work this week.
Thank you for the fantastic homework about Kenya! The children have found out some really interesting facts and hopefully they will make some amazing leaflets!
As part of our Geography work we found out all about what it is like to live in Kenya. We looked at the Maasai tribe and found out all about the jewellery that they make and the colours that are important to them. We designed our own Maasai necklaces as part of our DT work. We loved making them, the bead work was very tricky!
We had a fantastic time over at the junior school for World Book Day. We split into groups and got to work with some of the year 3 children and share a new story, although Mrs O'Grady picked her all time favourite Billy's Bucket!
Have a look at our science investigation. We had to find out what happens to our bodies after we exercise. We decided to do 3 different exercises and then count how many breaths we took afterwards until our breathing went back to normal!
20.2.17 As part of our PE lessons this half term,we will be creating a dance all about the frog life cycle. Look at the videos to see our fantastic start! Check back next week to see how our dance has evolved.
17.3.17. Look at our fantastic shadowing and mirroring skills. The dance is nearly finished...
We have worked very hard on learning our new Talk for Writing story, Jack and the Baked Beanstalk. Next we will be innovating our own stories by changing the character of the giant!
13.1.17 We have been working hard on our sketching skills in art this week. We have looked at the work of Vincent Van Gogh and in particular his use of line. We explored different types of lines and then looked at how to create tone with a variety of media. We really enjoyed our art lessons this week. We will be creating out own flower pictures based on the famous piece of artwork "Sunflowers."
Spring Term 2
English
In English this half term we will be learning all about poetry. We will be reading, sharing and performing our favourite poems. We will also write our own verses for a poem using interesting adjectives, adverbs and alliteration.
We will learn another Talk For Writing text too.
Maths
In our maths work this term we will be looking at the strategies we have learnt for addition, subtraction, multiplication, division and fractions and applying our knowledge of these in word problems. Have a look at the calculation policy to see how we solve these problems. We will also be looking at tables, charts and diagrams to interpret data and answer questions about the data.
Science
Our science work this half term will continue to focus on animals including humans and in particular the ways we can keep healthy. We will be doing lots of different investigations and testing out our working scientifically skills in different ways. This week we had to design our own tables to record data, we tried to answer the question, "What happens to our bodies after exercise?"
History
In History we will continue to find out about the Suffragettes - who they were, when they were active and why they were so important. We will also be finding out about other people in History who fought for equal rights.
Geography
In our Geography work this half term we will continue to look at Kenya, where it is in the world and how it's climate affects the human and physical features of the country. We will find out about the culture of Kenya and what it is like to live there. We will use our knowledge to make an information leaflet about the country.
Computing
In computing lessons we will be researching the Suffragettes and then using what we have found out to make our own PowerPoint presentation.
PE
In PE we will be creating a life cycle dance , check the videos for an update. In games with Mrs Jones we will be improving our feeding and fielding skills. PE is on a Monday and Friday - please have your PE kit in school.
PSHE
In PSHE with Mrs Jones we have been finding out about diversity and what it means. We have looked at how we are all different and what makes us unique and special!
Some of our science work involved finding out how flexible a plastic bottle was. We made rocket mice and fired them out of the different bottles. We measured to see which had gone the furthest and recorded our results in our own tables.