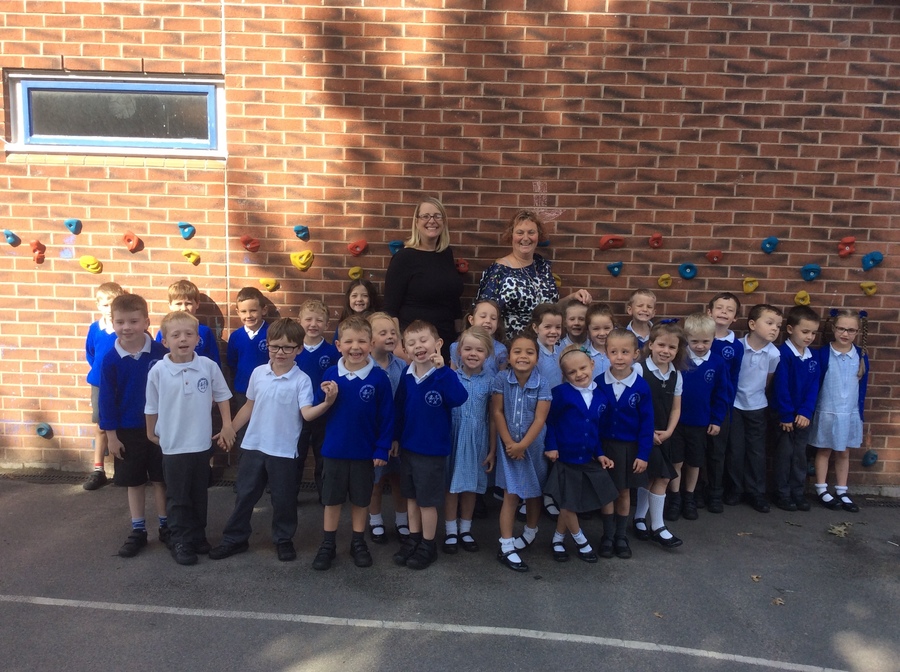 It's time for us to say farewell to the lovely Class RY.
We have had such a wonderful year and we are going to miss the children as they continue their journey. We would like to say a massive thank you for all of our presents, you have been very generous and we are very lucky.
Thank you and good luck next year everyone, you will blow Mrs Johnson's socks off.
Mrs Young and Mrs Slattery.
In our class we have Mrs Young and Mrs Slattery.
We also have thirty wonderful individuals who inspire us with their enthusiasm, energy, resilience and desire to soak up any information they can. We feel very lucky to be able to share their time in Reception.
Class reminders: Reading books are changed every Monday and Friday. Please try to remember your child's books as we are running low. Library books are changed every Wednesday. We send homework on a Friday, there is no requirement for you to send this back to us but if you miss it for some reason please come and ask. Can Juanita please return to school after a night at your home. Not all the children have had her yet and they are very excited.
]
Today we had a fabulous visit to Stockley farm and somehow we managed to stay dry! The children were fantastic, they all enjoyed themselves tremendously. Thank you so much to all our parent helpers, we wouldn't have managed without you. Enjoy the photos.
This half term in talk for writing we have been looking at 'Bears Magic Pencil' by Anthony Browne. The children have again enjoyed learning the adapted version of the story and will begin to look at how they can make up their own stories based around the same theme this week. Enjoy their performance they have worked really hard.
The more that you read,
The more things you will know.
The more that you learn,
The more places you'll go! - Dr Seuss
World book day - March 2017
Pancake Day- Today we made pancakes. We started with a safety talk where the children told us what they needed to do in order to keep themselves safe. Rules agreed, we moved on to making the batter. The children cracked eggs, poured milk and mixed. We discussed the consistency of the batter, the children agreed that it was liquid and thought of some wonderful words to describe it including runny, gloopy, gooey, slimy and sloppy. Then came the fun part the children made and ate their own pancake! Afterwards we discussed the different consistency of the pancake and how the heat had changed the mixture from a liquid to a solid. Lots of learning, loads of fun. Check out the pictures below to see what we got up to.........
We have spent lots of time writing words and sentences applying the new sounds we have learnt. We understand that some of them are quite difficult and we encourage the children to use a sound mat when they are writing to help them identify the correct sound. This is particularly useful with the phase 3 digraphs (sounds with two letters) as some of the children are getting them a little mixed up. Feel free to use them at home to assist your child with their writing.
We have been learning about Chinese New Year, the children watched a DVD about a little boy called Ian who was celebrating Chinese New Year with his family. We were very lucky to have a visit from Oliver's Mummy in class RK who taught the children to count to ten in Chinese. She showed the children some Chinese outfits and they were able to try on some hats. She told the children about Chinese traditions and they were all able to ask some questions. The following week the children tried some Chinese food, we tried prawn crackers, rice and spring rolls. We have done a number of crafts but my favourite were definitely the fans, the children payed such care and attention to their design.
We took advantage of a lovely sunny day to do some kite flying, the wind had dropped by the time we took the photos but the children worked out the quicker they moved the better their kites would fly. Fabulous science work and so much fun!
Talk for Writing: Our talk for writing text this half term is 'Lost and Found' by Oliver Jeffers. The children have loved learning our adapted version of the story with the actions. Feel free to have a go at home, make sure everyone joins in.
Here are some examples of how your children have been learning in Reception.