Nursery - Mrs Webster and Miss Dale
Welcome to Nursery... Our Topic this half term is Water scroll further down to see the activities the children are participating in. They are having great fun!!! Many many thanks to Tyler, our friendly Fishmonger who came to show the children the delights of the sea.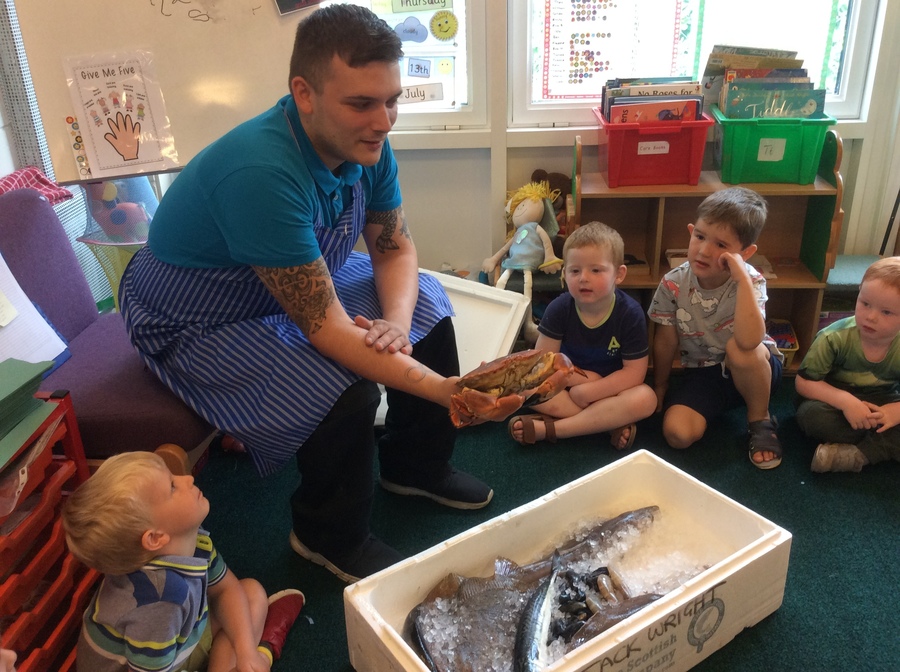 Welcome to our first Nursery page! We have lots of fun in Nursery, and we know that parents want to know what their children have been up to, so we hope that sharing this page with you will help give a little insight into your child's life in Nursery!
Topic Work
Our topic at the moment is Winter. The children were really excited to find that the water in the water tray outside had frozen overnight! We had great fun looking at our reflections in the ice and using Duplo people to ice skate on it! This started lots of discussion about how we could break or melt the ice. The children had some great ideas!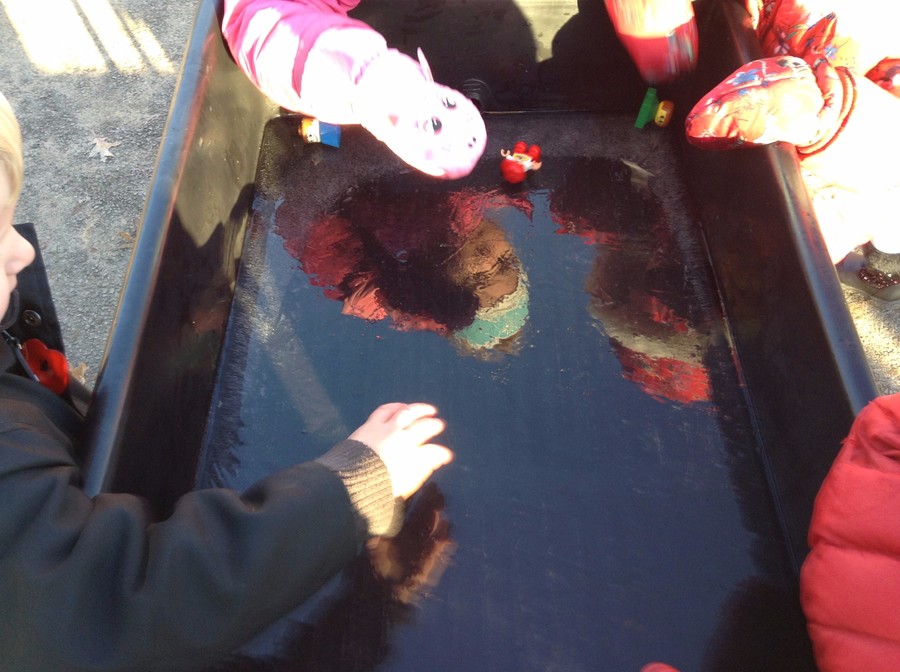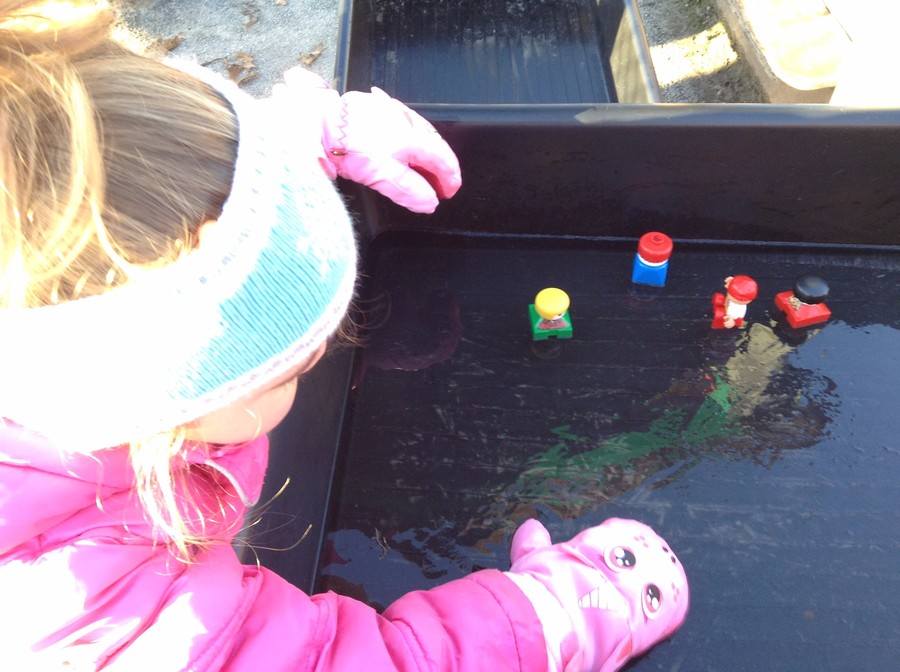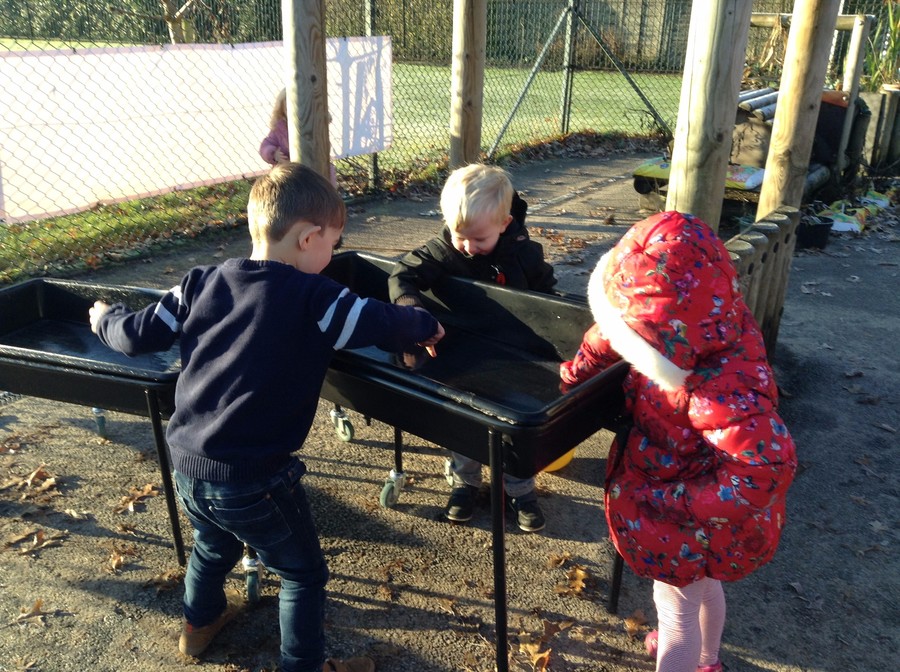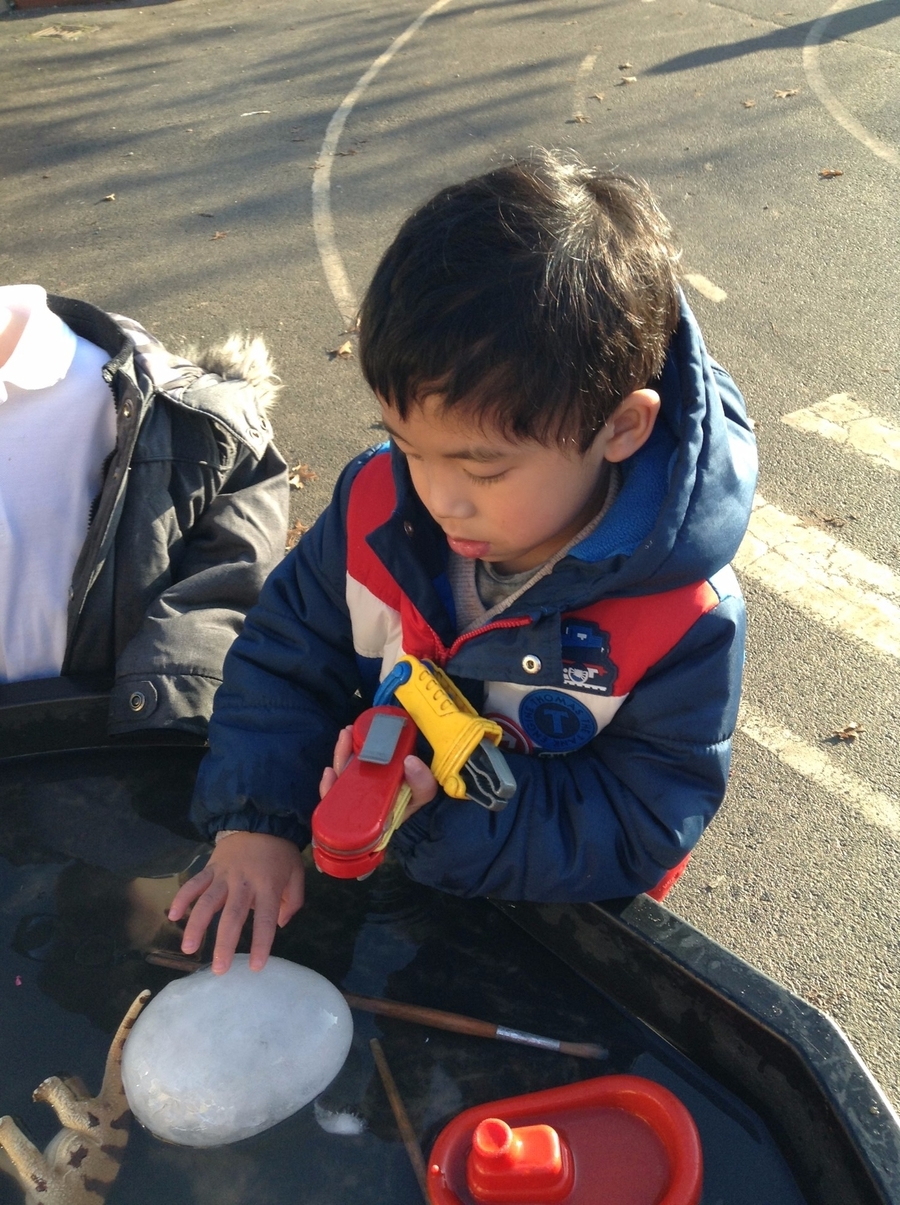 As part of our topic we have also been talking about winter birds. We looked outside to see if we recognised or knew the names of any birds, then looked in books to find out about ones we didn't. Some of us even decided to draw pictures and make 'bird books'.
We talked about it being difficult for the birds to find food when the weather is cold. The children thought it would be a good idea to make bird feeders to hang outside. We found some instructions and made some with bird seed mix, lard and yogurt pots and some out of Cheerios and pipe cleaners. All that threading was really good for our fine motor skills, we hope you're enjoying watching the birds feed from your feeders at home!
Expressive Arts and Design
In Nursery we enjoy exploring and experimenting with different mediums and materials including paints, chalks, crayons, pens and pastels as well as lots of different craft materials.
We look at different ways to manipulate media to create different effects.
We have tried leaf rubbings, 'splatter' paintings, mixing colours, handprinting, fingerprinting and lots more! We also enjoy 'transient' art (art that can be moved) with natural and man made materials such as shells, pebbles, conkers, sequins, pipe cleaners, glass nuggets etc. We have been doing this both inside and outside!
We have recently been making our own vehicles and have talked about the features we could add, how to attach them and also evaluating our own and each other's work, making suggestions on how we could improve them and what we like about them.
Literacy - 'Talk for Writing'
Talk for Writing is a fun way of helping children to become familiar with carefully chosen texts so they build up a broad story vocabulary which will equip them for writing in the future.
So far we have looked at 'The Ghost in the House', 'Naughty Bus', 'Lost and Found' and we are currently looking at 'Bear's Magic Pencil' by Anthony Browne.
The activities that we are doing to support Talk for Writing include acting out the story with props, sequencing the story, predicting what may happen, creating an alternative ending or changing the characters, using actions to sign the story and using the Small World area with miniature characters to act out the story. Each child even has their own 'mini-me' photo puppet so they can put themselves into the Small World role play, this has really helped develop the children's language! Below are some of the pictures taken from our work on 'Naughty Bus' 'Lost and Found' and 'Bear's Magic Pencil'.
March
Bear's Magic Pencil
The children have been listening to Mrs Webster read 'Bear's Magic Pencil' and they have been learning the actions. They enjoyed the bear action and were particularly interested in the part of the story about the endangered animals. Some of the children knew the meaning of extinct and shared their knowledge. One child said 'They were dying because their homes were being destroyed'. The Nursery children then drew their version of the story (see below). We had some amazing results. Well done everyone!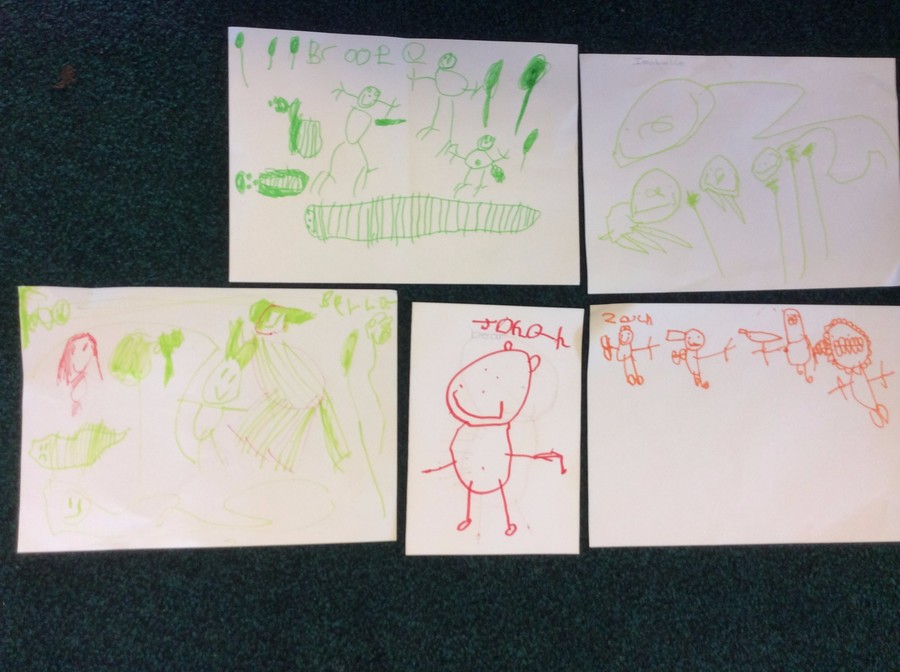 MAY - TALK FOR WRITING BOOK THE THREE LITTLE PIGS
The children are really enjoying the story of The Three Little Pigs. They have learnt the actions and have been acting out the various roles using our props and story stones. They have also been busy designing houses for The Three Little Pigs. They have designed using various materials including plastic, wood, bottle tops and a cookie house. One child decided to build a house of bricks and cover it with straw to trick the wolf!! What a brilliant idea!
Enter text...
Chinese New Year
This week (23rd Jan) we have been learning all about Chinese New Year. We made our home corner into a Chinese restaurant and pretended to be customers, waiters and chefs!
We ordered from the menu and tried really hard to use the chopsticks!
Some of us decided to make Chinese dragons like the ones we watched on a video. We learned how to fold paper in a 'concertina' effect to make the middle of the dragon.
We also made some lucky Chinese money packets and carefully decorated them with gold pen, trying hard to copy the Chinese characters! We counted out some coins and put them in our envelopes. We even tried eating some real noodles.
We loved celebrating Chinese New Year!
'Write Dance'
'Write Dance' is a movement based programme designed to develop children's gross and fine motor co-ordination starting from their own emotions and natural movements. Movement plays a central role in learning to write. Until basic whole body movements have been mastered the brain is unable to transfer these actions into the fine motor skills required for writing. Correct letter formation cannot be achieved until the basic whole body writing movement is smooth, flowing, controlled and performed with self confidence.
First we listen to some music, using our bodies to respond to the words and style of the music, then we transfer these movements onto paper, using large and small scale movements to create images that match the music.
The children have loved this as there is no right or wrong way to interpret the music or drawings, it really boosts their confidence. It is also great for gross and fine motor movements, rhythm, wrist strength and flexibility, co-ordination, co-operation and using their imagination to represent events.
The Mud Kitchen!
This week (6th February) the children decided to switch their shoes for wellies and explore the mud kitchen!
We have been mashing, digging, stirring, pouring, mixing and baking using different kitchen utensils and containers.
This has given the children lots of opportunities to use their imagination, extend their vocabulary, solve problems, work cooperatively and find out more about their natural environment.
The children were very surprised to see the snow falling today (28th Feb) but we went outside to explore it before it melted. We made footprints, drew pictures in it and even made snowballs, what fun....Brrrr!
Pancake Day
We were very excited about pancake day and the children have been sharing their own experiences of pancakes they've eaten at home. We watched a video about Shrove Tuesday and talked about the ingredients needed to make them and the toppings we like. We also watched a 'pancake rap' on CBBC!
Next we washed our hands and chose a topping for our own pancakes. We used a knife to carefully hold the pancake with one hand and cut with the other, we made halves and quarters before eating them all up, delicious!
Topic Work - Growing
We have been talking about 'Growing' in Nursery. We know that lots of things grow, like plants, flowers, animals and us!
This week we planted broad beans and talked about what they needed to grow and how we would look after them at home. We can't wait to see them grow!
World Book Day!
On 2nd March it was World Book Day. We celebrated by dressing up as our favourite book character, everybody looked fabulous!
We looked at each other's books, talked about them, then the Year 6's from the Junior School came to read with us. Later in the day we changed our library books, we love reading in Nursery!
The Learning Pit
In Nursery we have a display titled 'The Learning Pit' as you can see in the image below.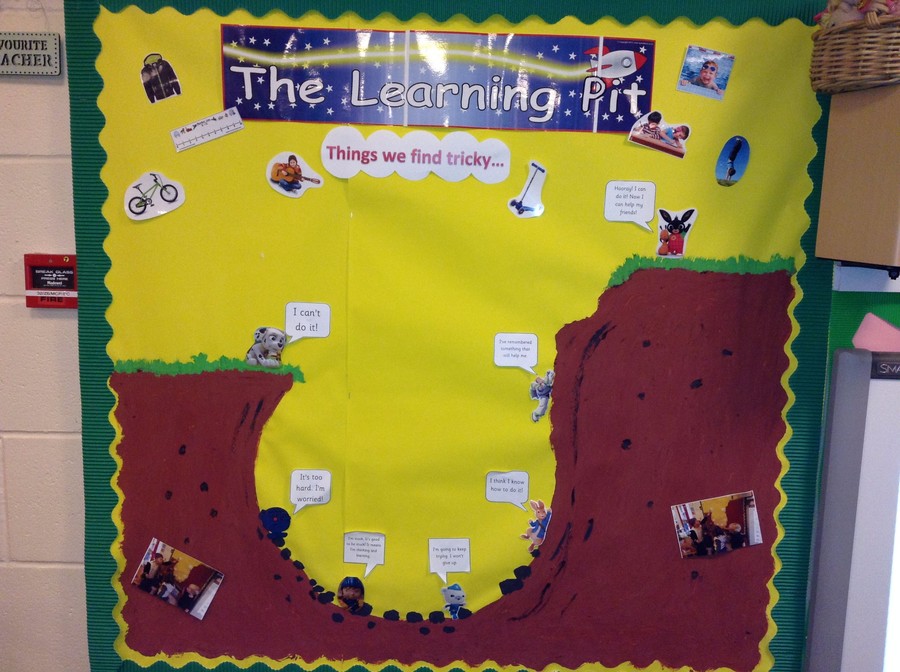 First we talked about and put pictures up of things the children find tricky (such as writing their names, doing up their zips, riding bikes etc.)
Then we looked at some of their favourite characters at different points on the pit. We explained that when you're faced with doing something new or learning a new skill it can feel scary or worrying or if we're stuck, it's like being stuck in the pit.
We talked about ways we can overcome our worries and get out of the pit to the other side, having achieved something new.
The children were fantastic at this and suggested "keeping on trying", "not giving up" or asking a friend or grown up. We talked about it being 'good to be stuck' as it means we're learning something new. We said it was ok to make mistakes as it means you can learn from them. We also said that once we're able to do something, then we can help our friends too.
The children often refer to the pit and even point to where they think they are in relation to particular challenges. They have been very proud of themselves when they have finally achieved something new and we always share the good news with the class!
APRIL
EASTER
The children have been very busy preparing for Easter. They firstly made Easter cards and then Easter nests. They were happy weighing the ingredients, stirring the chocolate and adding the mini chocolate eggs. The children mentioned that the chocolate would have to be melted before adding to the shredded wheat. They also thought that the best place for the nests to set would be the fridge.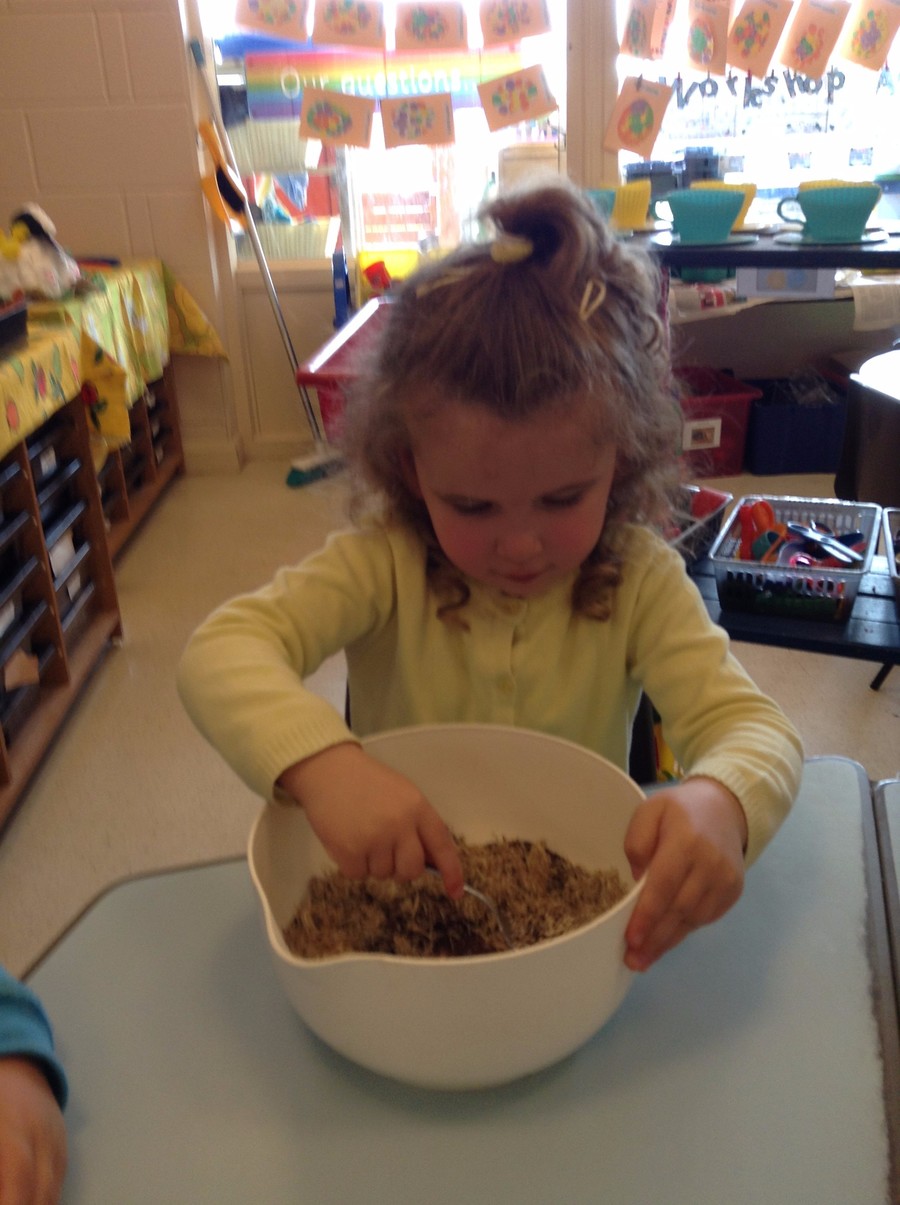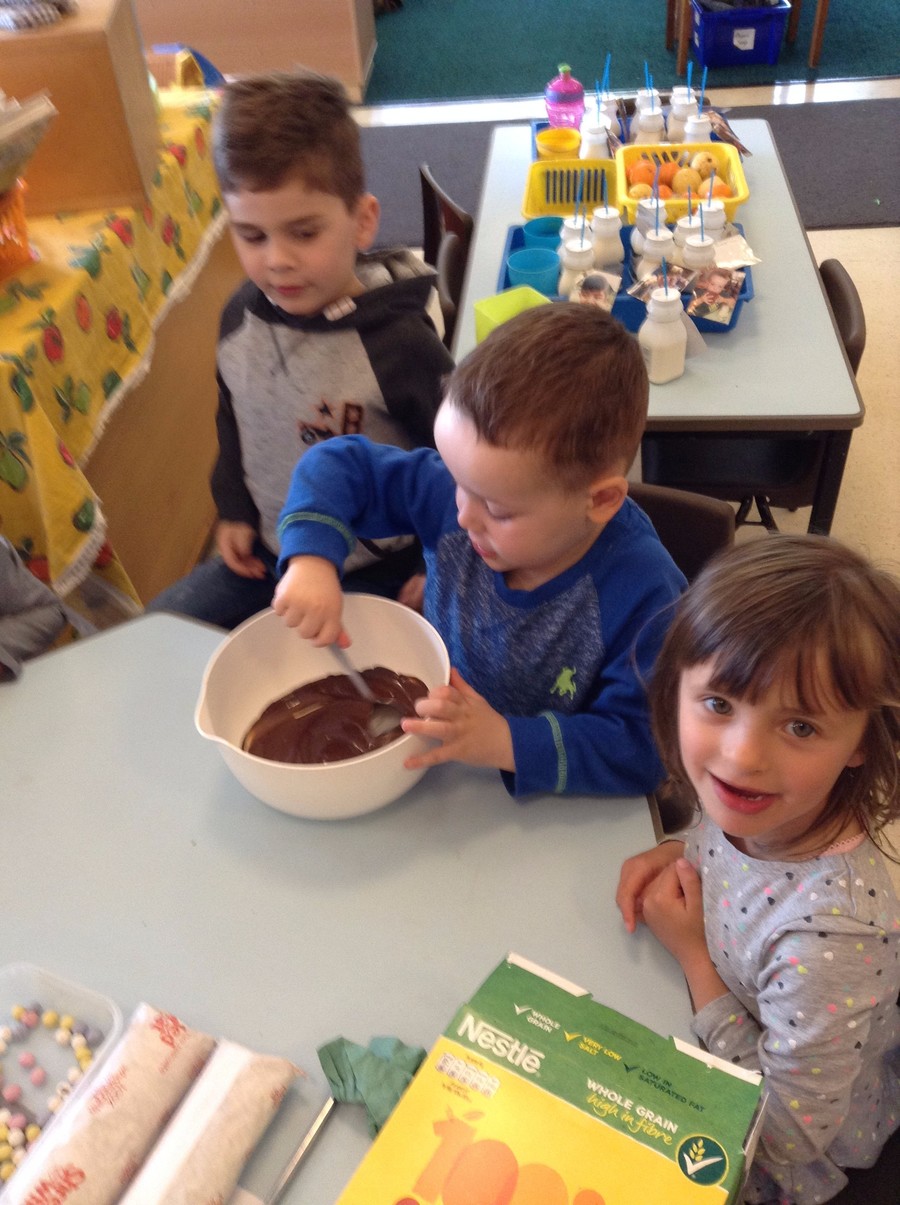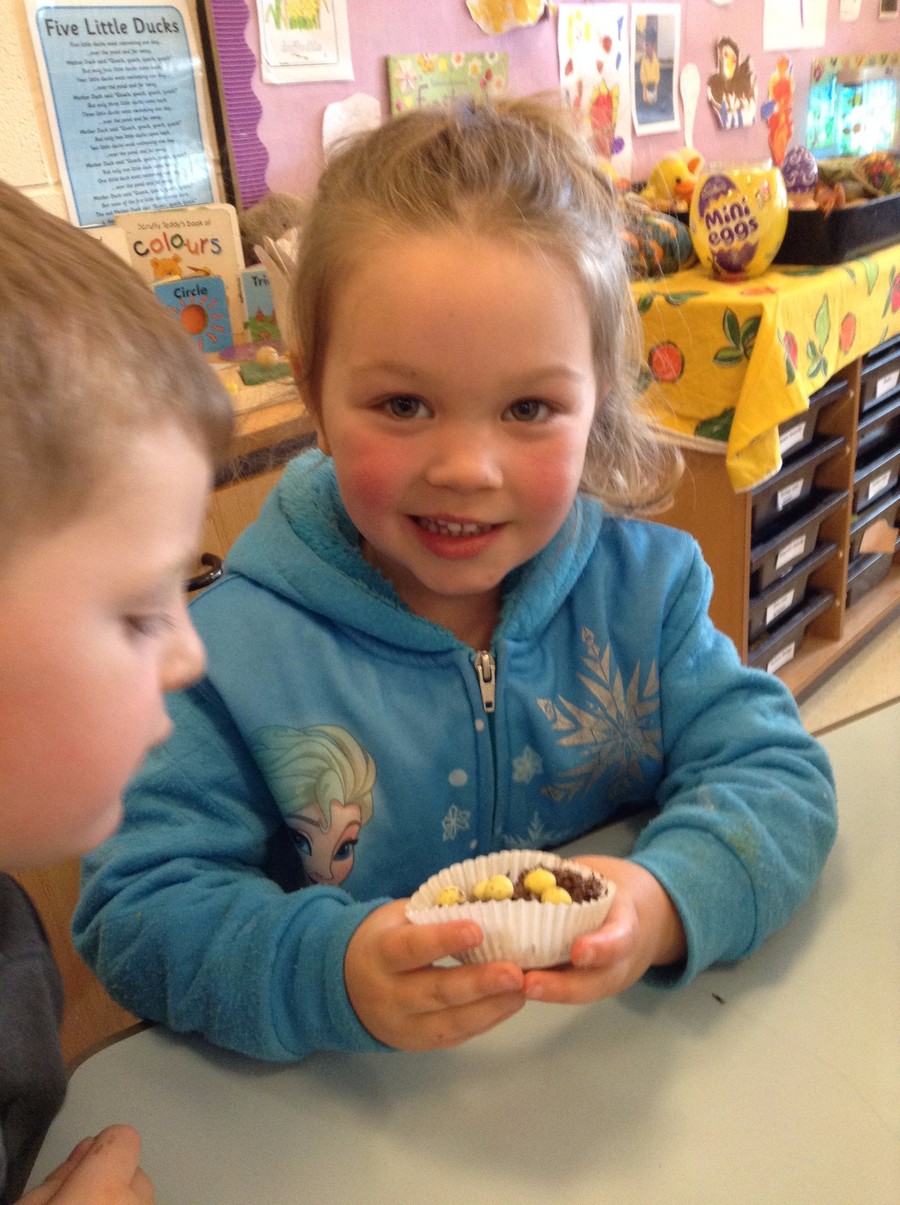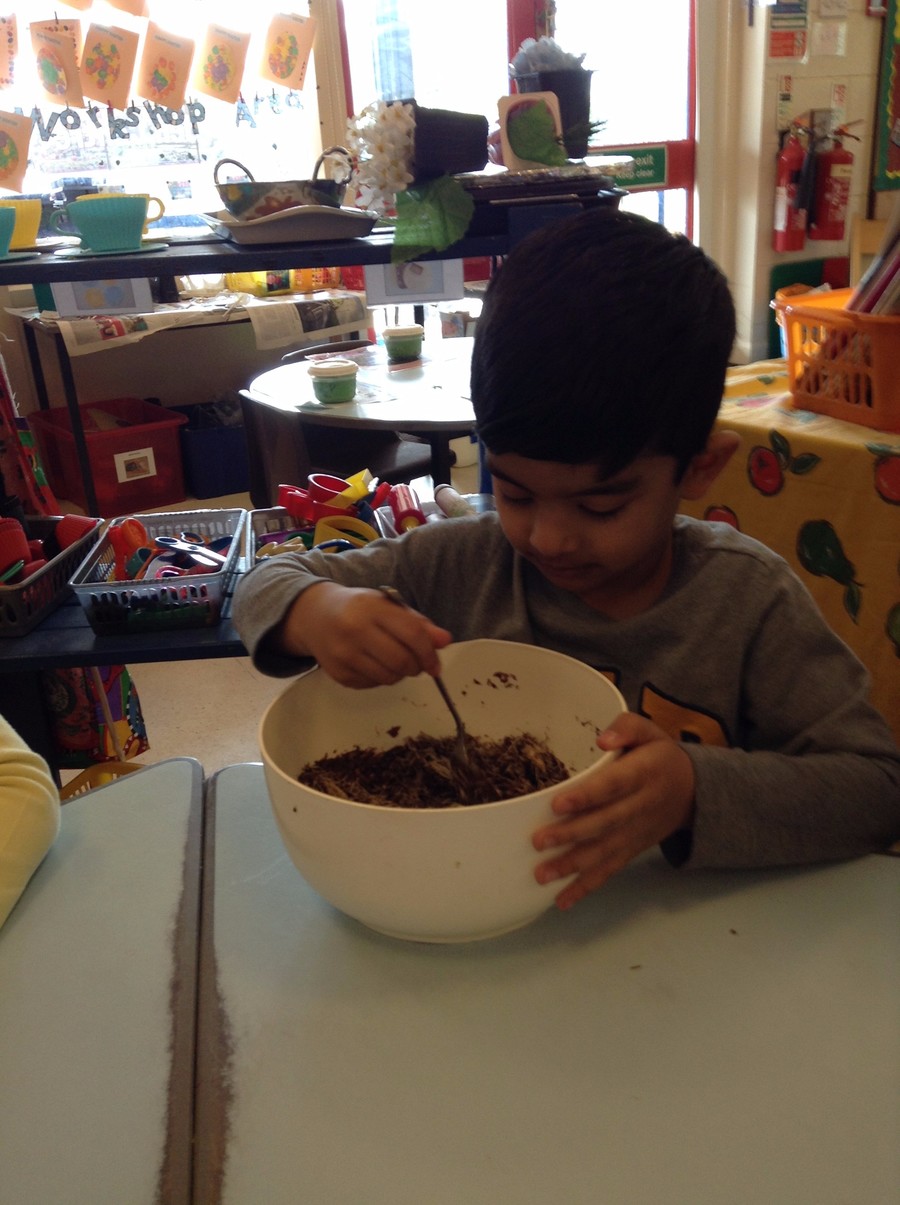 May
New arrivals
The children have been eagerly awaiting the arrival of the caterpillars.
They were super excited when they arrived and carefully held the caterpillars scrutinizing their every move. They will be looking at them daily. We read the Hungry Caterpillar and looked at non-fiction books about the Lifecycle of a Butterfly so the children are well aware of the amazing changes that take place.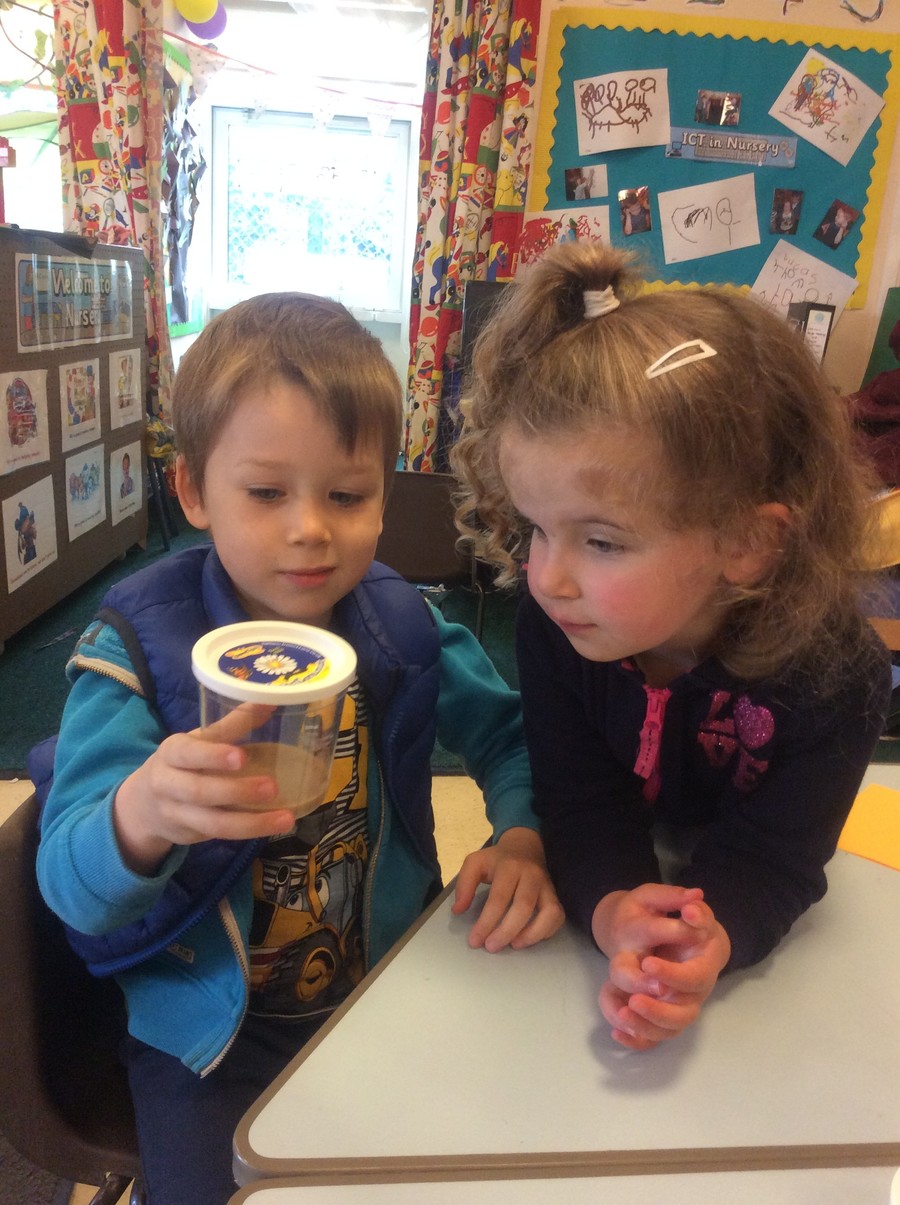 May
Miniature Gardens
This week the children have been using their design skills and imagination to create their own miniature gardens. They were very focused and thought carefully as they added soil, grass, a pond, gravel, fences and flowers to their design. Wow!!! Great work!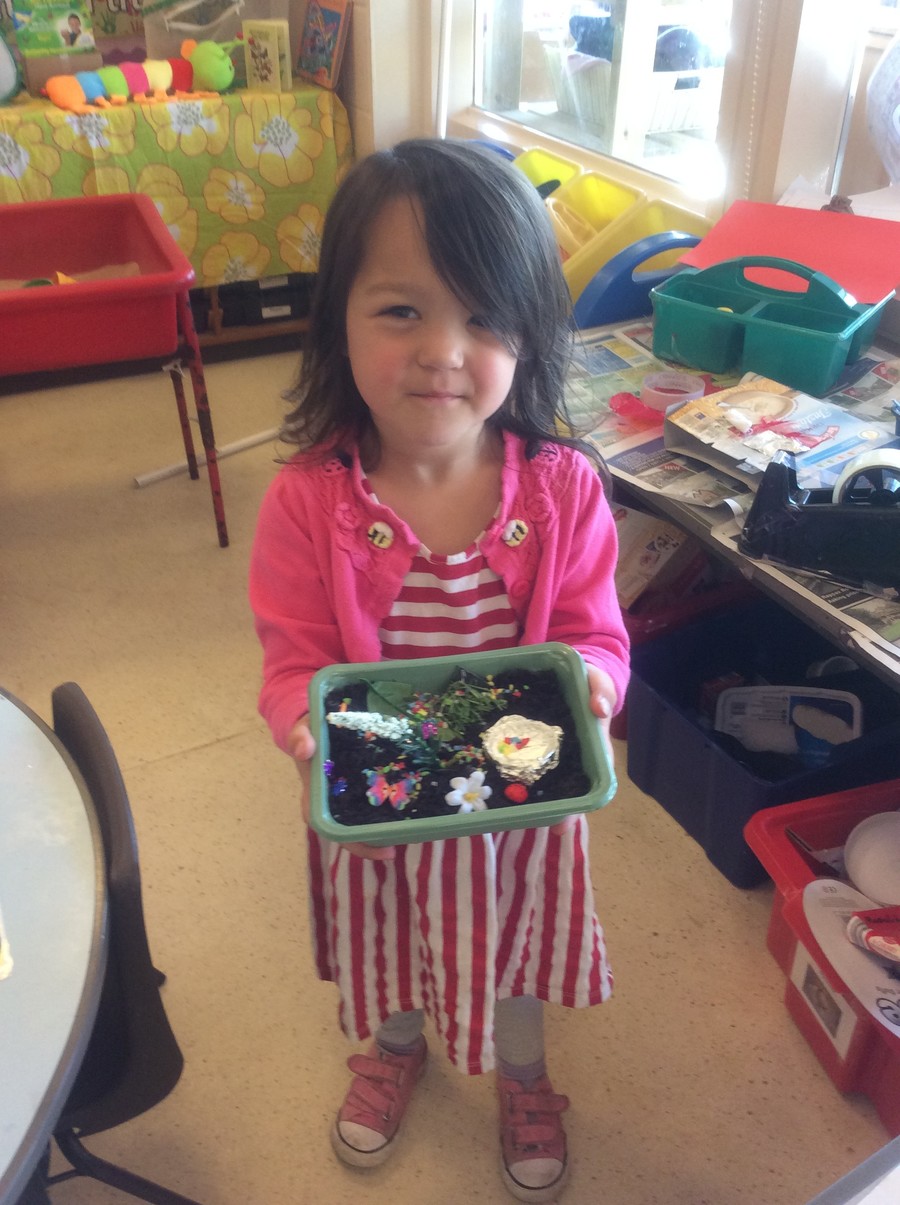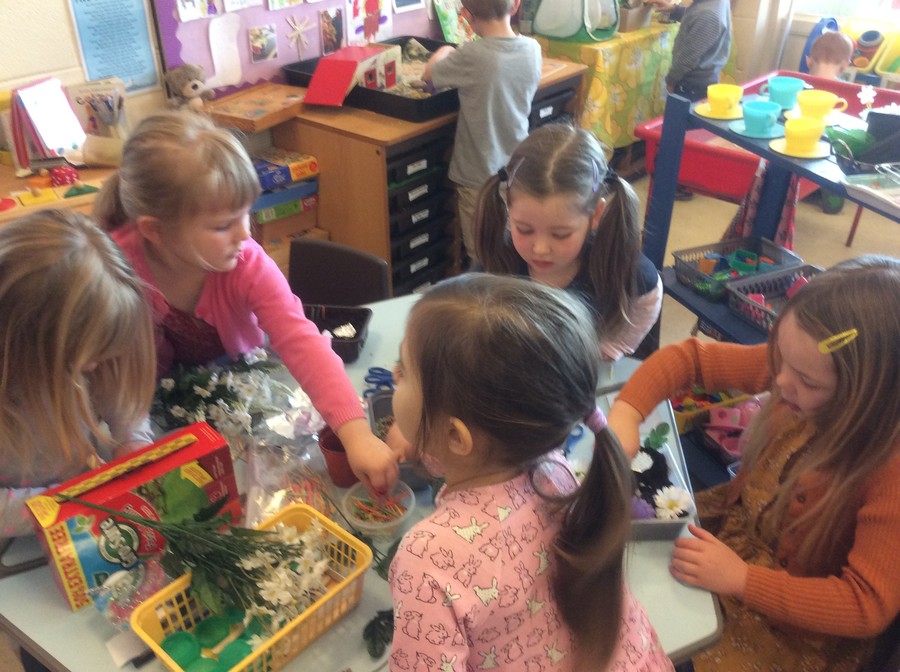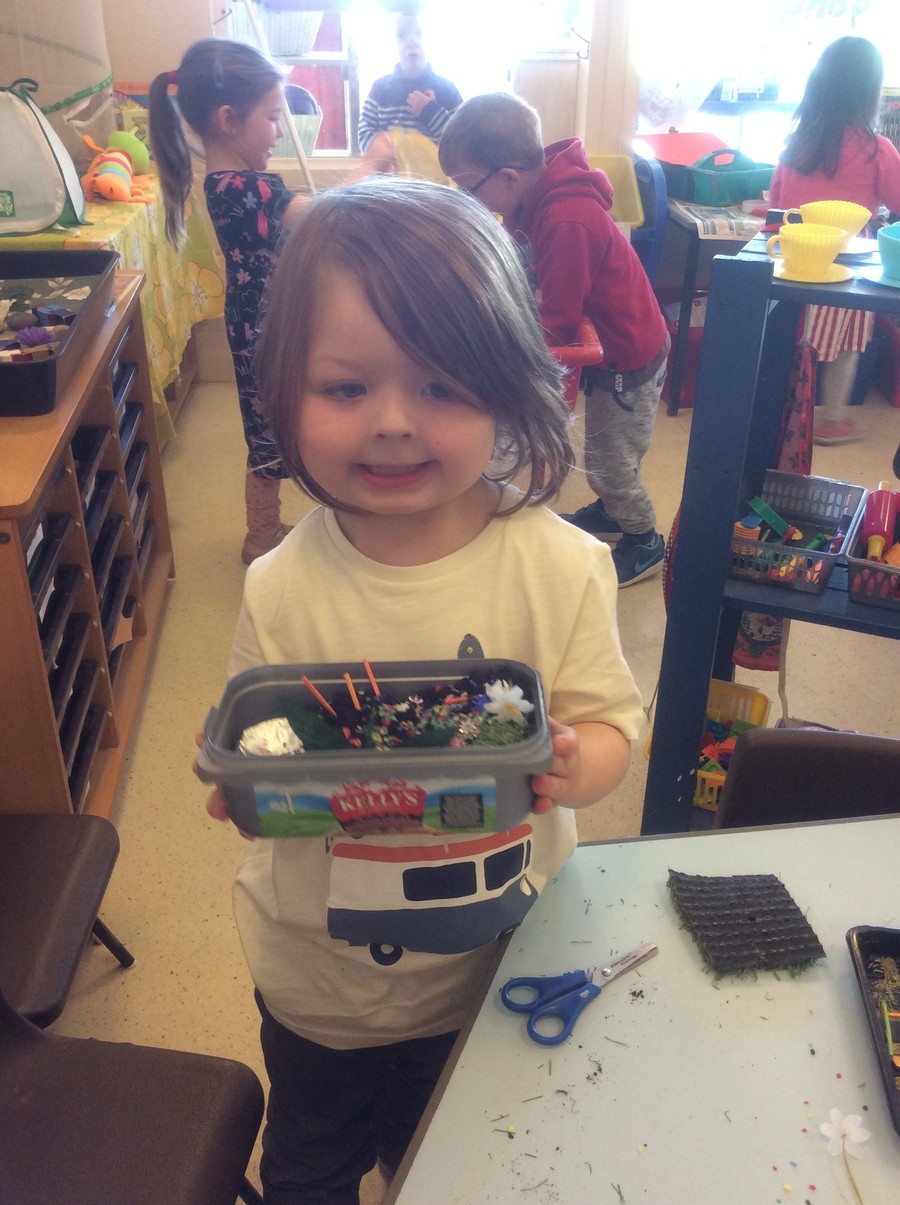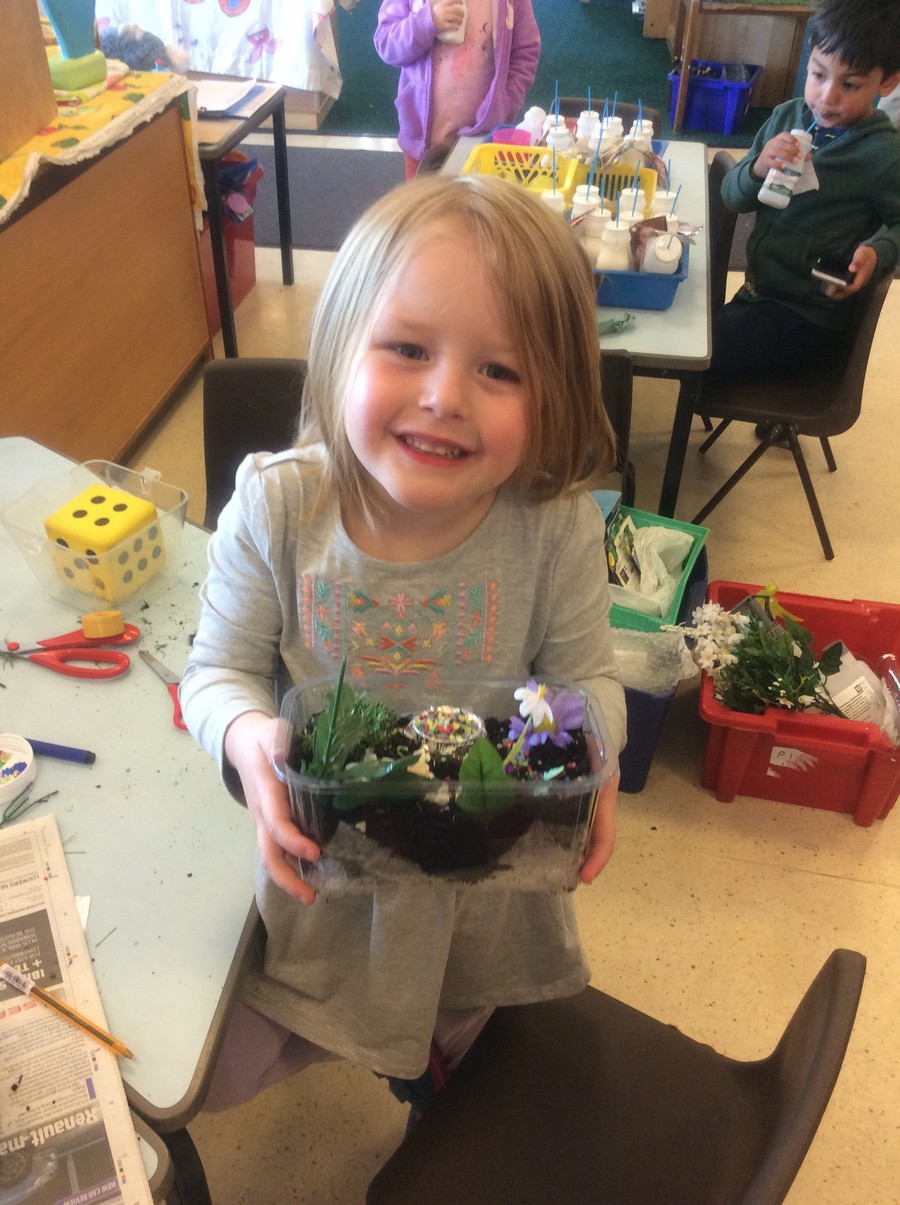 JUNE...
Our Topic is now Water. We have set-up a Beach role play area and the children have had great fun playing in here. We
have just read 'The Rainbow Fish' and talked about being a good friend and why the Rainbow Fish was lonely. The
children then worked in groups and made lots of sea creatures for our new display. They used paint, cake cases, jewels,
foil and paper to enhance their fish.
We all watched a Nursery friendly clip on the smartboard which was a song about the movement of water through the
watercycle. The children sang this to the tune of Wheels on the Bus. We then asked the children Where does water
come from? They told us about water on the beach; water makes boats sail, we drink it, you wash with it, it is wet, it
comes from reservoirs, it comes from under the road in pipes. Great Water knowledge Nursery!!!!!!!!!!
We made ice lollies. When the children were told about what we were going to do they roared - the Nursery staff
thought they'd won the lottery they were so excited! We asked children how we would make the ice lollies and they
had some great suggestions. Such as add juice for flavour; it has to be the right shape, some children thought they
went in the fridge, others thought they needed the freezer because it was colder. Children are looking forward to
tasting. Photos to follow.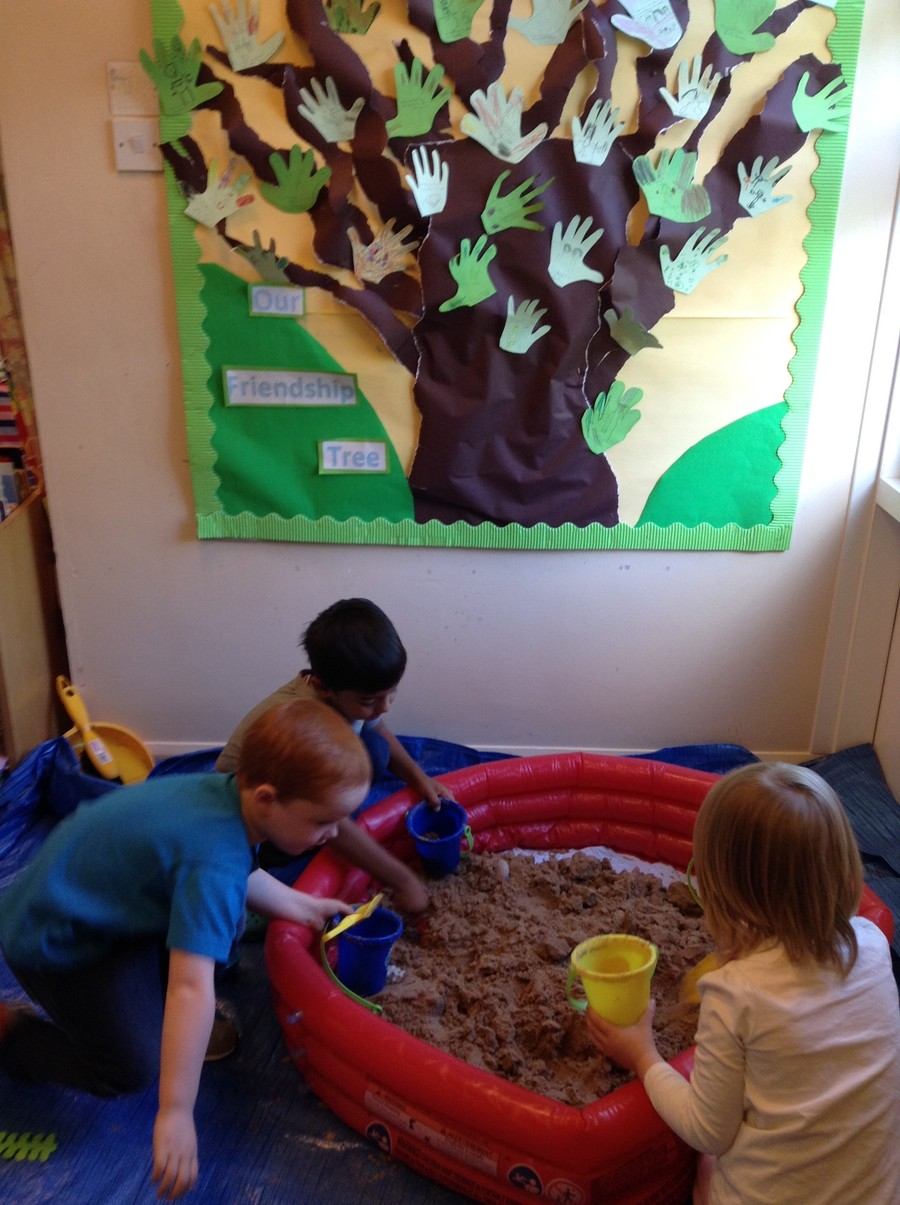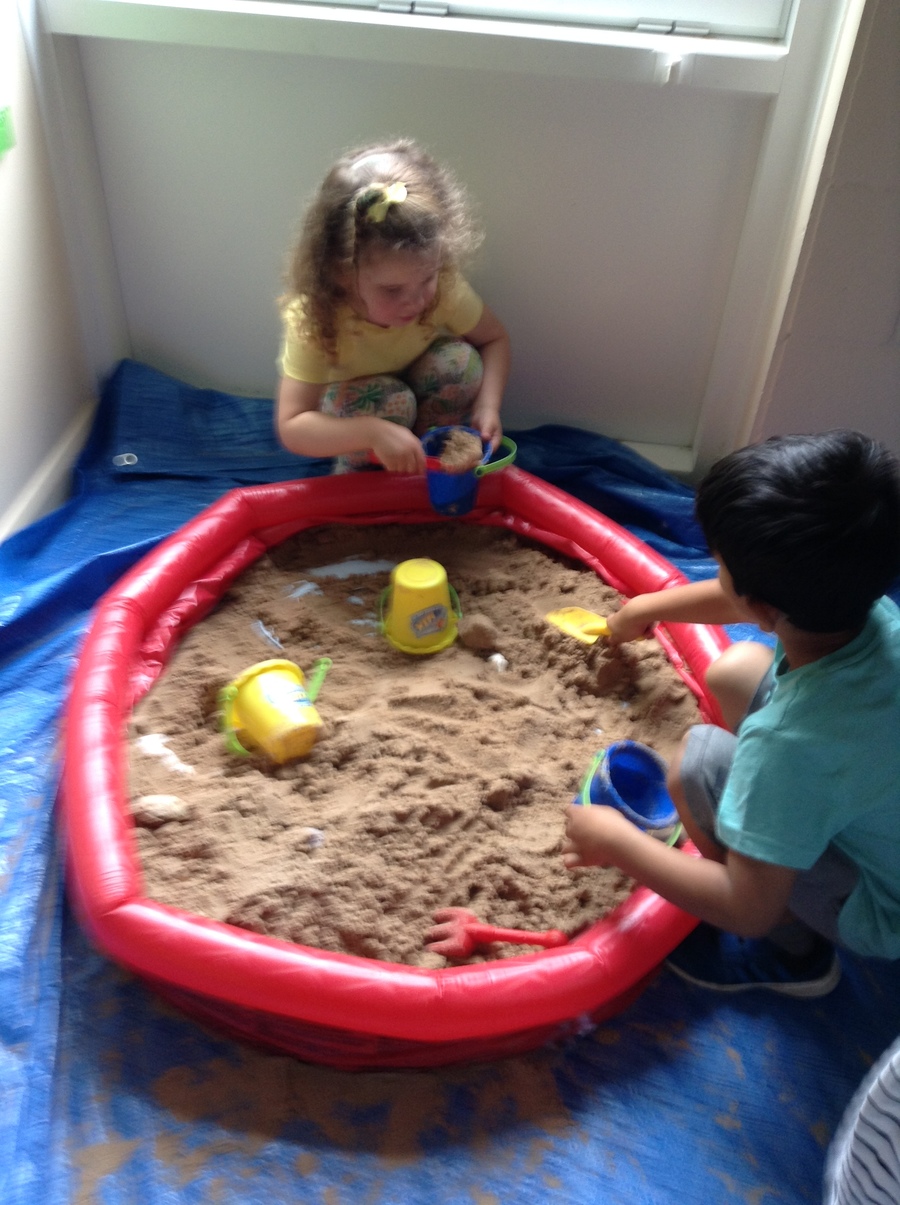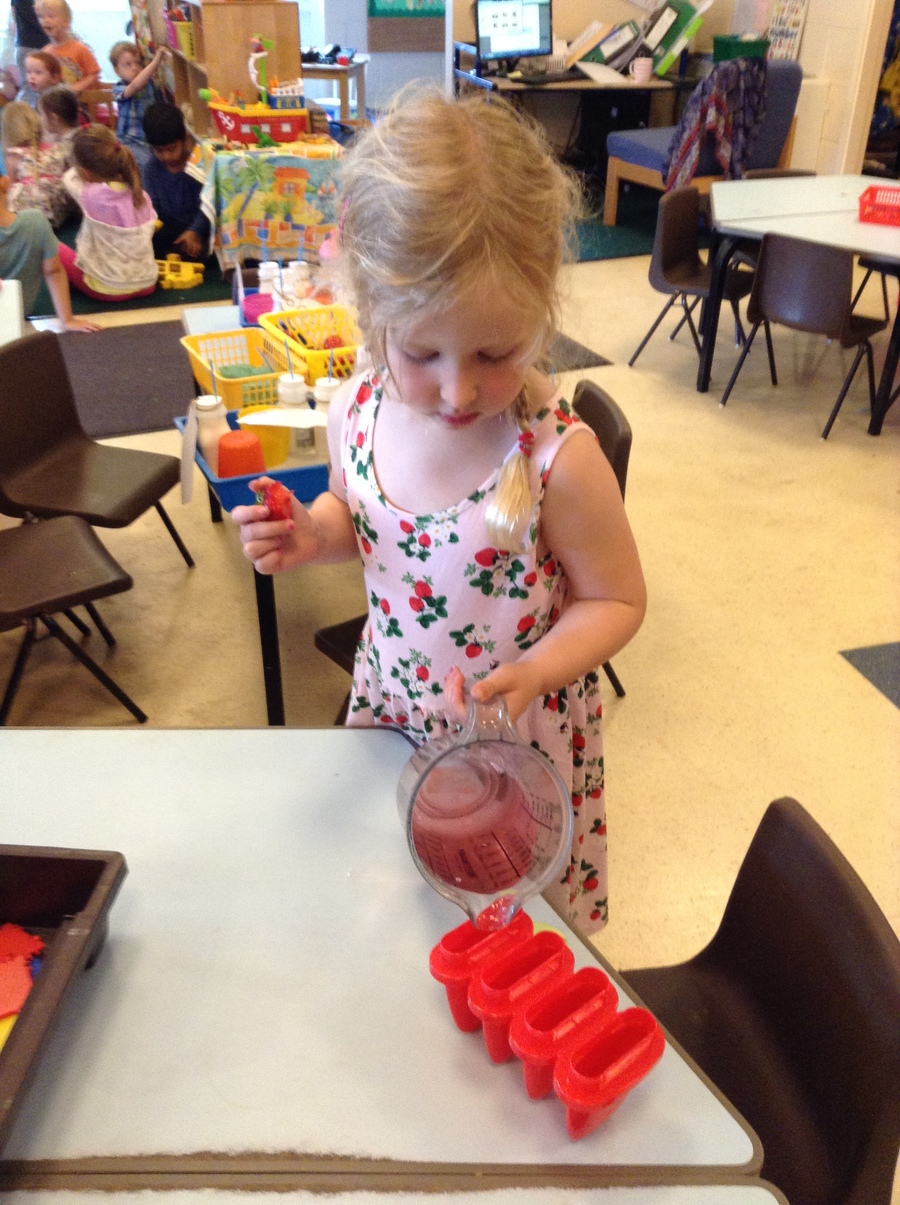 She's here!
Mrs Carr's baby girl arrived on Monday 27th March! She weighed 6lbs 12oz and is called Thea Olive. Her brothers love her and she is always hungry!
Thank you again for all the lovely gifts, cards and wishes. Although Mrs Carr is very busy with her new baby she is thinking a lot about Nursery and knows you are all doing amazingly!
Reminders:
Library Books - We change library books every Friday.
Junk Modelling - As you may be aware, the children love to make models. Any small boxes, tubes or crafty items would be most welcome in Nursery.
Spare clothes - Please can you make sure your child has a full set of spare clothes on their peg. Any spare or old leggings / joggers you would like to donate to Nursery would be much appreciated.
Bags - Due to limited peg space, we advise that a small drawstring bag for the children's spare clothes is preferable to large bags/rucksacks.
Toys from home - are best staying at home as they could easily get lost, damaged or mistaken for someone else's in Nursery.
Kevin and Betty - the class bears are sent home / returned on Mondays, Wednesdays and Fridays.
Mrs Carr's last day before Maternity Leave is on Friday 10th March. Mrs. Webster will take over from 13th March.
Thank you for your support.